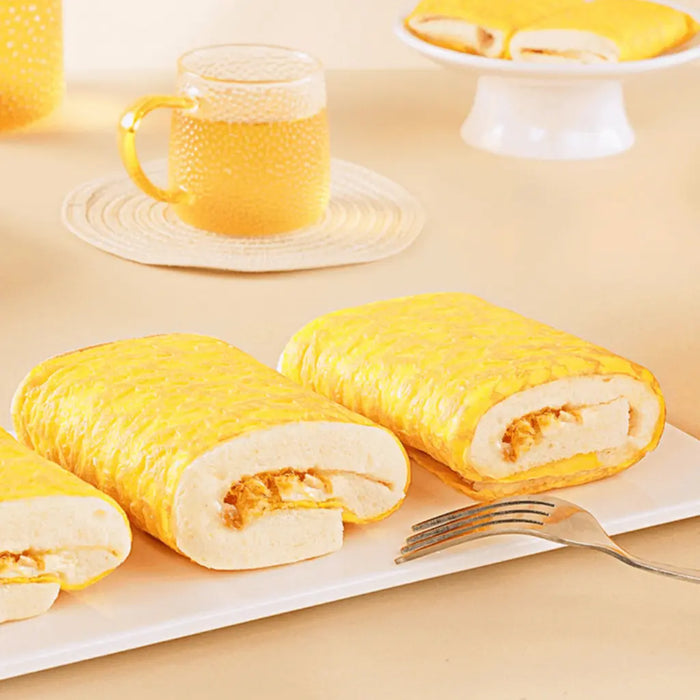 HaoDian Meat Floss w/ Egg-Roll Layer Sandwich
Save up to

0

%
Save %
Original price
$0.99
-
Original price
$25.99
HaoDian Meat Floss w/ Egg-Roll Layer Sandwich
Indulge in the extraordinary flavors of HaoDian's Meat Floss with Egg-Roll Layer Sandwich, where the outer yellow layer is a delicate and thinly fried egg layer that envelops a generous filling of savory meat floss. Each bite is a delightful contrast of textures, with the crispy egg-roll layer giving way to the tender and flavorful meat floss inside. Whether you're enjoying it on your own or sharing it with friends, this sandwich is a unique and mouthwatering treat that's sure to satisfy your cravings. Taste the savory magic of the meat floss and the crispy perfection of the egg-roll layer in every delightful bite!
Sold Individually (60g each) & Full Case: Contains 2kg (5.5 lbs) of pastry.
Product image used for reference, the pastry itself will be packaged individually in its air seal packaging. 
PLEASE READ: The product is not marked with an expiration date. Instead is marked with a production date. YY/MM/DD format. Shelf life 4 months. 
Product of CHINA | Ships from California, USA